Embry-Riddle Flight Training, Aircraft Fleet, and Observation Flight
This blog will cover the technical side of flying as I will go in depth about what we fly to train everyday here at Embry-Riddle. This will only apply to the Daytona Beach campus and some of the statistics may be out of date.
As a student pilot who is working to get his or her Private Pilot License and become Instrument Rated, they will most likely be flying the Cessna 172 Skyhawk. Some students working on the Commercial Pilot License and Certified Flight Instructor training will also be training in these planes but they will spend majority of their time in the Diamond DA42-VI. I will be going over these two planes and giving you an idea of what it's like to fly in one of your college classes in the state of Florida.
Cessna 172 Skyhawk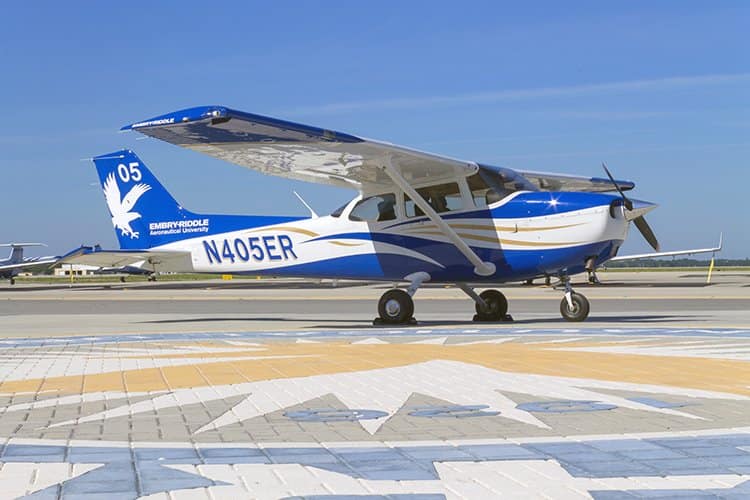 "Skyhawk 405 Echo-Romeo, wind 050 at 7, clear to land runway 7L, caution wake turbulence, departing runway a Boeing 737."
There's a chance you will hear this through your headsets if you are flying near Daytona Beach airport in one of these Cessnas. Currently possessing 51 of these Cessna 172s, ERAU operates state-of-the-art aviation programs in order to help students train with a high level of professionalism. To briefly go over some specs,
C172SP: G1000 Glass Cockpit / ADS-B / Single-Engine (Textron Lycoming)
Max Speed: 124 knots
Stall Speed (flaps down): 40 knots
Range: 515 miles
Endurance (Time): 4.2 hours
Fuel Capacity: 56 gallons
This airplane can take a beating which is why it is used for flight training by so many different flight schools. It is so stable the plane will refuse to stall, which is a maneuver we need to practice. A stall is simply when you yank back the yoke and the plane loses thrust to compensate the weight and drag which pulls the plane down. Your plane will then "drop" from the sky which is why we train to recover from such dangerous situations. The plane can also take some "hard" landings which is a common mistake for many beginner pilots.
ERAU takes pride in all their Cessna 172s being equipped with G1000 glass cockpit and ADS-B. G1000 is a flight instrument panel that gives the pilot all the information he or she needs in a presentable manner. It is the updated version of the traditional "six-pack" where all the manual gauges and indicators were used to fly.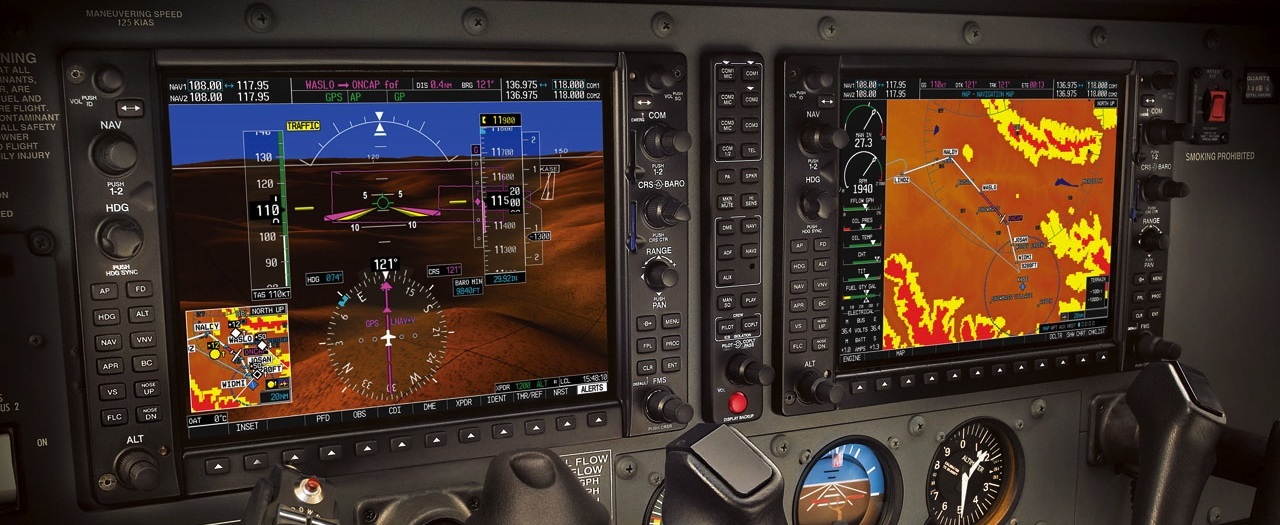 One quick glance at the G1000 system can give the pilot all the information he or she needs which may include: Altitude, Airspeed, Heading, COM Frequency, Engine RPM/ instruments, Warning signs, Glide slope indicator, GPS Map, Terrain, Weather en route, etc. It is now more common for the airline pilots to be flying fly-by-wire airplanes with computer generated Heads Up Displays and glass cockpits.
The second one is ADS-B which is Automatic Dependent Surveillance-Broadcast. What it does is track all the aircraft that are equipped with ADS-B using satellites and ground controls which allows their locations to be displayed on the G1000 GPS map. It will tell you the other plane's location, flight path, altitude and airspeed and this becomes very useful especially in practice areas where high traffic of student pilots fly in limited airspace. Only down side is that not all planes are equipped with this expensive gadget so it is important for us as pilots to not rely solely on our instruments but rather looking outside.
Interesting perspective of what it's like to fly in one of our planes out of Daytona Beach Airport by @AirForceProud95.
Diamond DA42-VI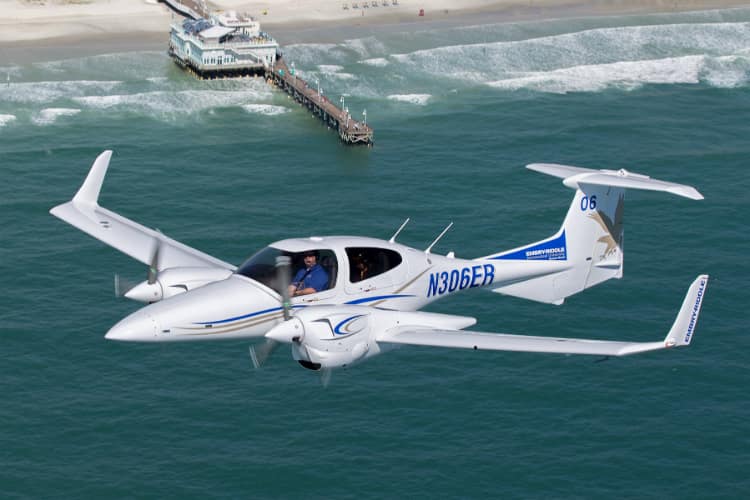 Diamond 42 is our only multi-engine, complex aircraft which you can see by the two propellers spinning on each side of the cockpit. Complex aircraft means the landing gears can be retracted and it has a constant speed propeller… which simply means you can adjust your propellers in order to adjust the performance and fuel burn. These planes use jet fuel unlike the Cessnas so they are truly designed for commercial students who are about to graduate and head out to the airlines.
DA42-VI: G1000 Glass Cockpit / ADS-B / Multi-Engine (Austro Engine – Jet Fuel Piston)
Max Speed: 188 knots
Cruise Speed (economy): 152 knots
Service Ceiling: 18,000 feet
Range: 1273 miles
Fuel Capacity: 76.4 gallons
Currently operating 10 Diamonds at DB campus, these planes offer great training for commercial pilots who are working on long cross-country flights to Key West or North Carolina. They are packed with state-of-the-art gadgets as mentioned before and the complexity of these planes allow students to train on a high level of professionalism even before they get hired by the airlines.
Another wonderful perspective of flying a DA42-VI by @AirForceProud95
I hope you got to learn something about the planes we fly here at Embry-Riddle. It is truly a gift and a privilege to be able to fly and have access to these amazing gadgets and aircraft that are maintained for our flight training purposes. It is always easy to overlook how valuable this opportunity is when we fly everyday.
"They Shall Mount Up With Wings of Eagles, They Shall Run and Not Be Weary" Isaiah 40:31