On October 13, 2020, ERAU will be hosting its annual Career Fair where a number of companies show up to showcase their businesses and recruit students. Due to the special circumstances this year, the career fair will take place virtually this time. Career fair invites a number of airlines like Delta Air Lines, United, American Airlines, Southwest Airlines, Frontier, and Spirit. Boeing, Embraer, Gulfstream and Northrop Grumman are also invited for engineering and business students. There are also government jobs and non-aviation contractor companies that visit to recruit students. It is very similar to your average college fair except you have the exchanging of resumes and business cards instead of college brochures.
This will be my fourth career fair I will be attending at Riddle. To be frank, as a low-hour pilot, there is not much that applies to you unless you enter your junior / senior year because often times, we just don't have the hours or the certificates we need in order to get recruited. However, it is always a great opportunity to look for internships and talk to company recruiters about your potential interest in them. This year's fair will be little different as everything will be conducted online. We have to exchange our resumes online through a program called "Handshake" and these companies will be hosting online meeting sessions to answer questions and showcase their companies.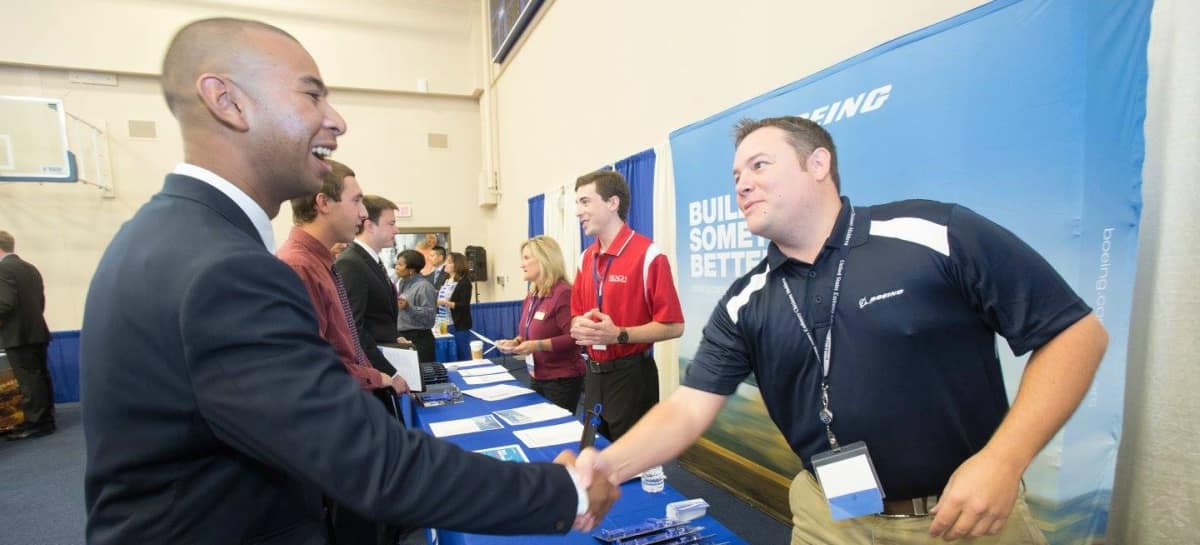 The university puts great emphasis on these career fairs so on the days we have the fair, our classes are cancelled. You can see many students attending the fair in professional attire in hopes of getting a chance to work at their dream company in the future. Our school is heavily specialized in pilot and engineering programs and as a result, the level of competition between similar major groups is intense. Before COVID, you could see people waiting in line for Boeing, or Delta Air Lines for hours, just to get a chance to talk to one of the recruiters. If you see the desk areas of these major companies, the pile of resumes reaches an impressive amount by the end of the day. I'm hoping that the shift to conduct this fair online will not only keep us safe and healthy, but it will reduce the somewhat "chaotic-and-competitive" atmosphere of our usual career fair.
I believe it is a fantastic opportunity that is given to us students and it really gets you to start thinking about the real world after graduation. I am grateful that the school hosts these events that get you to be ready for your career before you graduate. It makes you realize how competitive the real world is and prepares you with the right tools for you to succeed after you leave Riddle.
Everyone has their own goals and whatever the goal may be, it's important that we don't let laziness and insecurities of our own distract us from the opportunities that are given to us. Whoever works the extra hours and shakes more reps' hands will increase his or her chance of landing a spot in that interview or the company's job.
I hope everyone will have a chance to attend this event and find some success in reaching your end goal.